When you're 8 months pregnant and the only craving you have is your wedding cake, Dorene delivers! This past weekend was my baby shower, we live in Boston, which is almost 3 hours from Dorene. My sweet husband drove North to get my favorite, Dorene's vanilla bean cake with blueberry filling and buttercream frosting. Yum! It was gorgeous and perfect! I had the pleasure of meeting Dorene for our wedding cake tasting two years ago, my hubby and I got married at Sunday River and Dorene was my favorite cake in the 1 hour radius of the mountain. The cake was the most delicious treat to ever hit my lips, not to mention it was absolutely charming to look at. My family and friends thought I was crazy to have Bret drive so far for a baby shower cake, but once they tasted it, they completely understood! Thank you, Dorene! (Contributed photo.)
~ Bethany Margaret
---
Dorene is the BEST. We were able to plan our cake from Seattle and it was beautiful and delicious and PERFECT. When sharing the first bite, I actually stopped and said to all of the guests, "Oh my! That's the best cake I've ever eaten!" Thank you so much.
~ Tim Fenlason
---
Dorene has been making cakes for our family's special occasions for years! From engagement cakes that had a San Francisco theme, to baby shower cakes, Birthday cakes and even a very special cake for my retirement. Her creativity is special and she is able to duplicate ideas that are presented to her with ease. And THEN there is the fact that the cake is moist and delicious and yummy frosting too.
If you have a chance to have Dorene make a cake for you, you will never have a cake made by anyone else again!
Thank you Dorene for helping us enjoy our family's celebrations with your tasty and beautiful cakes.
~ Terry Cole
---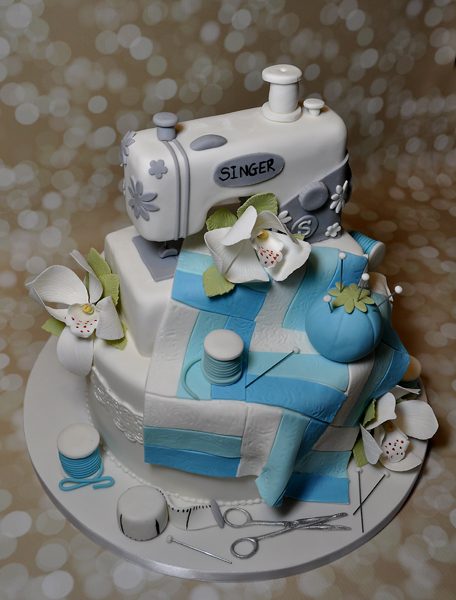 Dorene's Cakes are a handcrafted piece of art. She made a Sewing Machine cake for my mother's 82nd birthday. Just beautiful, it was the rave of the party. Mother being an avid seamstress was delighted, she had never seen anything like it and most of her guests hadn't either. It was what I had hoped for and more. The detail work that went it to this cake was amazing. The cake looked pretty and was delicious too. Thank you Dorene for making Mom's birthday one to remember.
~ Roberta White
---
Dorene's cakes are not only beautifully done, they are the most delicious cakes ever! I have ordered several cakes from her. I am always amazed when I see the cake and It's exactly like the picture I sent!!
~ Patty Brown
---
Dorene made my day even more special ,by creating such a beautiful wedding cake ! It was exactly everything I expected , and the best part of all it was so DELICIUOS!!! I had guest"s going up to get third helpings ! I cannot say enough about how wonderful of an experience having Dorene as my cake artist!
~ Nanette Bilodeau
---
Click Here!  To read what reviewers on The Knot website said about Dorene's Creative Cakes.
~ The Knot
---
Dorene…my hat's off to you!! Absolutely amazing!! People were so impressed and so was I… beautiful and tasty! I have to admit I think the cake was the most beautiful part of the wedding…thank you.
~ Tina Kell
---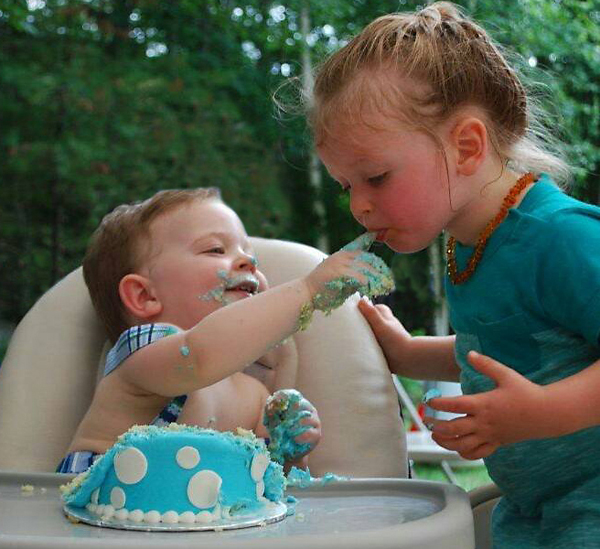 What an incredible way to celebrate our first child's first birthday! The cake was immaculate and got nearly as many photos as the birthday boy. On top of being delicious (clearly he enjoyed it) the process was simple and flawless. Great communication in a timely manner. Attention to detail & quality far superior to that of the competition in her price range…. The list goes on. We've had many elaborate cakes for special occasions and this is easily in the top 3 (that includes my wedding cake). For as long as she does cakes of this quality– we will be repeat customers. (Contributed photo.)
~ Deb Knight
---
The shower was wonderful, and your cake received so many compliments you would have blushed! Not only was it beautiful to look at, but it tasted sooo good. Thank you for all your hard work, your creativity and your attention to detail. You helped to make our shower very special.
~ Colleen
---
Sorry for the delay getting back to you, work is nuts this week. – The cake was AWESOME, he loved everything about it and I have had more compliments on it!! I am definitely very pleased and have given your name, website etc to everyone!!! Thank you soo much again.
~ Buffy
---
The cake was amazing! More than what I expected, and Christine enjoyed it. Thank you so much, we truly appreciate it! She had a wonderful 8th birthday.
~ Kim & Dave
---
Good Morning,I wanted to tell you again, how pleased I was with the Baby Suess cake. It was delicious and absolutely what I was hoping for! There were many inquiries on who made it, and I passed out your cards. Thank you again-and my sister in law LOVED it!!
~ Deb
---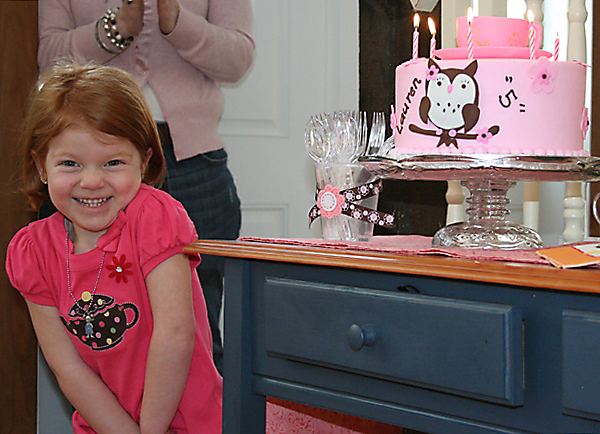 Dorene, you made a little girl very happy on her 5th birthday. Thank you, again!!! (Contributed photo.)
~ Deb Roy
---
OHHH Dorene . . . It was the best cake that anyone ever saw or tasted. It could not have been any more perfect. We can't thank you enough, when we get a pic I will get you one.
~ Jane
---
Thank you again so much for the cake. It looked amazing, and our guests LOVED the flavors! :) Excellent! Al and I didn't get any cake when they were passing out slices, so we had to fight for them!
~ :D
---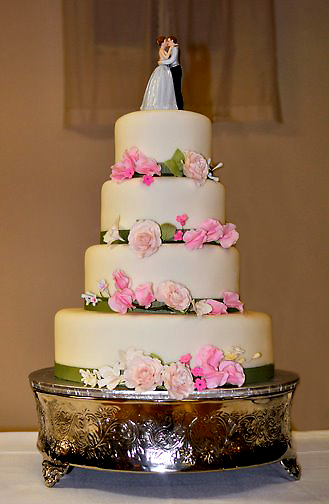 My husband and I were extremely impressed by the cakes that Dorene made. We had a big wedding with a lot of people and Dorene not only made our wedding cake, but a groom's cake and a sheet cake for us as well. Throughout the whole process she was awesome and listened to what we really wanted. Our wedding cake came out amazing with beautiful sugar flowers that she made herself. We had so many compliments on the cake! The groom's cake was also amazing and was the talk of the reception. Picking out a baker to make your cake is a really big decision, because you trust that person to create the cake of your dreams that you will first get to see on your wedding day. Dorene was able to take exactly what was in our heads and make three amazing cakes. I highly recommend Dorene to anyone who is looking for someone to make their wedding cake. She is a great person and has an amazing talent and I will definitely use her again in future.
~ Shauna Broyer
---
Thank you so much for such a beautifully decorated cake!! I was so in love. It was also super tasty. :) thanks!
~ Renee
---