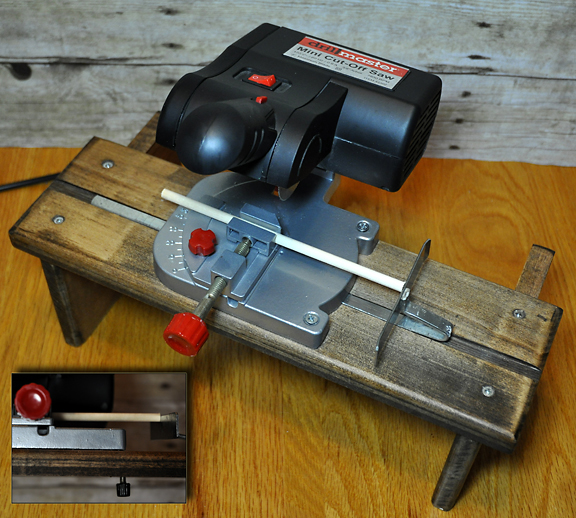 As Dorene's cake business started picking up she began making more and more multi-tiered cakes. As per standard practice she uses small wooden dowels in between tiers to support the weight of the subsequent tiers. In the beginning she would ask me to cut the dowels for her as she assembled the cake. This meant going down into the basement and firing up the 10-inch table saw, which is probably just what the definition guys had in mind when they came up with the word overkill.
As each tier is slightly different I couldn't cut all the dowels at once but had to wait until each tier was added before I could cut the carefully measured dowels to length. This wasn't all that bad until she started staying up all hours doing her cakes and expecting me to be available to cut the dowels as she needed them. So rather than arouse my ire by waking me at 1 in the morning to cut 5 little sticks of wood she started using a serrated Ginsu knife to cut the dowels. Now this not only made me feel guilty when I would hear her sawing away, but I knew that this was an accident just waiting to happen. I had to do something.
Google time. Someone out there had to be making a small/miniature saw for model makers and the like. Sure enough I found just what I needed at Harbor Freight Tools, a 2-inch chop saw with a built-in clamp to hold whatever it is you need to cut. Not only was it just what I needed but the price was right. I immediately ordered one and then began planning how I could as they say, perform some value adding.
As by my nature I am somewhat of a hoarder I knew that somewhere in my toolshop was a small rip fence attachment that came with my circular saw and I knew I could use it in my design. While scrounging I also came upon a little set screw I had salvaged long ago from some other tear down I did and realized that could come in handy too. With the rip fence, the set screw, a couple of maple 1×4's and a few other needed items I got to work.
I cut a piece of the 1×4 to about 14 inches and then cut a slot down its length of just the right size to hold the rip fence nice and snug. Next I drilled a hole in the middle of the slot just slightly smaller than the set screw and carefully screwed it in so as to cut threads into the wood. I then cut 2 smaller pieces of 1×4 to create legs. I assembled the wood pieces, rounded edges, sanded and then stained to a dark walnut color. To finish off, I inserted the set screw, laid the rip fence into the slot and then attached the saw to the top with 4 screws. Looking sharp! Literally and figuratively.
With everthing assembled I tried it out. I marked a dowel and locked it into place using the saw's built-in clamp. I then slid the rip fence along the slot until it touched the dowel and then used the set screw to lock the rip-fence in place. Once you cut the first dowel and release the clamp you can then quickly and easily cut as many more as you need to the exact same length.
Much more precise, quicker and most importantly, a heck of a lot safer than a Ginsu knife! I wish I could say I sleep much better knowing Dorene is no longer hacking away at dowels with a dull blade but alas, the saw does have one shortcoming.
It's LOUD!
(Blog post submitted by Kurt Vail)